Introduction 
Now let's dive into a world of adrenaline and action that's sure to have plenty of kick for even the most extreme use. It's a fresh new LiveBet Casino, and the name pretty much says it all. There's betting, live gaming and, of course, slot machines, so this set will answer every call.
A well-established gaming site for the modern age, it is produced by CW Marketing. A few other gambling houses are under this entity, such as BetsAmigo as well as Campeonbet, for example. Based on the brand names, one could argue that this is a very betting-oriented operator, which is certainly true. However, this hasn't stopped other activities from being very much available as well.
In the course of this text, we will be looking in a little more detail at LiveBet and its deeper essence. We will take a close look at the different aspects of the site and aim to provide you, the reader, with comprehensive but concise information packs on each feature. Getting to know the operator couldn't be easier.
LiveBet Casino Website Look  
This layout hits you in the face, like a bolt from the blue. As soon as you enter the site, you realise that you're in for a truly energetic adventure, with no shortage of that famous buzz. There are many impressive banners, nice little touches and a striking colour scheme that makes LiveBet a truly cohesive whole.
The electric atmosphere is created by many small details, such as the lightning bolt on the logo. The colour scheme also plays a major role here, with a great combination of blue and bright yellow. And of course, while the main focus is on the pep and crazy energy, there's also style to go along with it.
The textures are therefore very well executed at LiveBet, and even on longer trips, the viewing doesn't get stale. There's nothing bad to say about this facade. In addition, points must be awarded for not being overly artistic and for the clarity of the layout.
LiveBet Casino Ease of Use
Underneath the attractive exterior, we also find a highly functional interface that is guaranteed to meet all customer needs. LiveBet Casino lends itself brilliantly to fast-paced gaming as well as enjoyment, leaving players to decide for themselves how fast-paced things get. Logging in is easy and can be done using the buttons in the top right-hand corner.
Once you're in the thick of the action, so to speak, you can then start to explore the games on offer in more detail. All of LiveBet's various options, such as sports betting and casino games, can be found in the top navigation which is impossible to miss. In addition to these, there's also a Promotions button, but then everything else has been pruned out of the menu.
If you want to access 'extra' information, then you can head to the footer, where there's a comprehensive set of links. However, all the information is constantly available and that, if anything, is important for a successful gaming trip. The framework for a smooth operation is very well set up.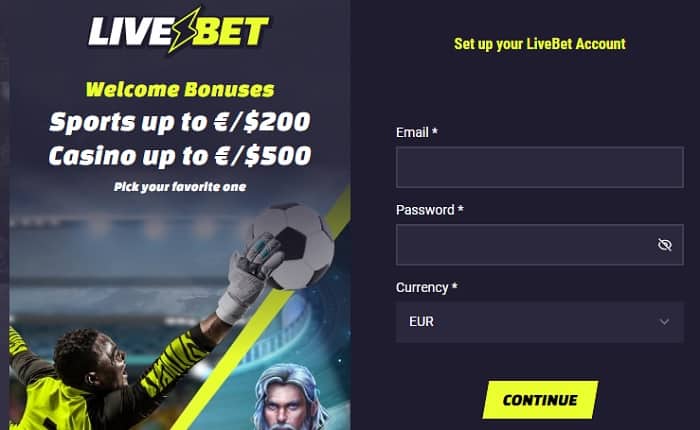 LiveBet Casino Welcome Bonus 
The promotions section of Pelimestan has a plethora of different offers, but our main interest is in the welcome bonus. Sure, there are a whopping four different ones, but our focus is on the casino package. There are no big surprises in this offer, but in the traditional style, you'll get some extra play money to go along with your first deposit.
First deposit: 140% bonus up to €500
Although this is a very conventional welcome, it has been slightly tweaked by LiveBet. The €500 amount itself is already above the market average, not to mention the 140% multiplier to beat the 100% boost that often comes your way. So all in all, the deal looks very attractive and of a generous size.
However, it's not worth celebrating too much, as there's nothing for free at LiveBet either. For example, the wagering requirement has been raised slightly from the standard and this time all money, both your own and extras, must be wagered 45 times before cashing out. So it's quite an undertaking, but those who complete it will be rewarded in a very nice way. It's also worth remembering that the minimum amount to redeem is €25.
LiveBet Casino Games Selection 
It's a shocking bang when this massive game library comes rolling in. If the hard claims are true, LiveBet Casino has a staggering 6900+ games. And when you add to that the tens of thousands of different betting options, we dare say there aren't many like it on the gaming market.
The games' own showcase, which can be found under its own tab, is also very convincingly constructed. The products are nicely presented with pictures, and there are also excellent tools for making your choices on the left-hand side of the screen. There aren't that many categories, but fortunately, the search function is a saving grace.
Below the selection tools you will also find a comprehensive list of names of different game producers. Scrolling down the list, you will find dozens of different brands, some of which you will certainly be familiar with and some of which you won't be. Perhaps the most well-known manufacturers to be found on LiveBet are Betsoft, Microgaming, NetEnt, Red Tiger, and Yggdrasil.
Slots
If we look at the categories available and the number of products they contain alone, slot games are by far the biggest of all the listings. In total, there are almost 6,000 different options squeezed into this list, so there's certainly no shortage of choice. Of course, it's worth noting that this number certainly includes jackpots and mega-wins, for example.
Slot machines are a standard feature on just about every gaming site, so their convincing presence comes as no surprise. It's rare, however, to see such a wide range of games, so kudos must go to LiveBet for that. There's sure to be all your favourites on offer, as well as a host of familiar faces.
Jackpots
As already mentioned, there is unfortunately no dedicated list for jackpots. Finding these jackpots can prove difficult at LiveBet, as hunting for individual products among the thousands of games on offer is by no means the easiest of tasks. A dedicated jackpot category could make things a lot easier.
Of course, the search function helps a bit here, and when you type in the word "jackpot", a nice variety of options pops up. However, even this does not cover all games in this category and, for example, many progressive jackpots do not even have this term in the name. Experienced players should be able to cope, but as a new player, you may face some minor challenges.
Megaways
Searching also proves to be a very valuable tool when it comes to Megaways, which have suffered a very similar fate to jackpots. Fortunately, however, most games in this genre have the word "Megaways" in the title, so there should be plenty to do in the search.
And when you complete the process described earlier, LiveBet Casino has a pretty nice set of Megaways. There are a number of well-known products on offer, providing some really fast-paced and energetic action in keeping with the style of this gaming house. Nothing but good luck.
Table Games
Oh my goodness what's coming? Yes indeed, the classics of the classics – table games – have been getting a tremendous amount of appreciation from LiveBet. In total, there are around 900 table games to choose from, with over 200 of them in the live games section and the rest in the regular table games.
And when you take a closer look at the line-up, it turns out to be very strong. With everything from poker and roulette to games from the entertainment world, there's something for everyone. The products are from a wide range of manufacturers, so there is also a strong sense of diversity in the mix.
LiveBet Casino Customer Service 
Have you ever encountered any technical problems or the like on your own gaming trip? Or have you had a nagging question that you needed an urgent answer to? If you have encountered either of these scenarios, for example, then you have probably also come across the customer support service that can be found on every online gaming platform.
And LiveBet is no exception, offering a suitable framework for all kinds of transactions. In the footer of the service, you'll find a button that will take you to the support services available to you. Two channels are available, one of which is a live chat integrated into the site and the other is a traditional email ([email protected]).
Of course, email is available 24/7, as there are no restrictions. However, there will certainly be no round-the-clock response, as the chat is also limited to 10am to 2am. So you won't get help every time the clock strikes, but within the opening hours, you're sure to get help very quickly, whatever the problem.
LiveBet Casino Payment Methods  
Payment practices are very much in line with tradition at this venue, and there are no fresh innovations to be found. Of course, one nice thing is that there are no extra fees charged by LiveBet at any point. On top of this, the process has been made as straightforward as possible, so making deposits and withdrawals shouldn't be difficult.
Deposits are, as usual, almost instantaneous, but withdrawals are not quite as fast. Withdrawals require some processing and verification of identity, which of course takes some time. LiveBet says that all requests will be processed within two days, but you can streamline this process yourself by putting all the necessary documentation in the venue from the start.
So what are the payment intermediaries available this time? Well, all the payment services on offer are well-known names and there is no denying their reliability or quality. These include Visa, Skrill, Neteller, and Paysafecard, as well as several different cryptocurrencies.
LiveBet Casino Gaming Licence 
The footer offers a wide range of buttons and valuable information. One text snippet deals with the owner of LiveBet and the licence. So, it can be seen that the operation is authorised by the Curacao authority (8048/JAZ2021-155). This means that this operator regulates and controls everything that goes on in the game.
The Curacao Authority and the licence it provides is a very common sight in the gaming industry, with several hundred different operators listed. Especially over the last few years, the Authority's reputation has grown quite nicely, so it's no wonder that it's one of the most popular licensing providers. So anyone who finds their way to this site is sure to be in for a treat.
LiveBet Casino Users Experience
"Let's start with the downside. On the downside, I found that the customer service staff took a little while to respond to messages on the chat side. I didn't encounter any other weaknesses, but the overall experience was very convincing. The number of games is shocking and the quality is the best possible. I would definitely recommend trying this place out."

"A very solid experience, which I like. A great looking site that doesn't offer too many extra gimmicks, but keeps the focus firmly on basic gaming. The game library is, of course, absolutely fantastic and doesn't really lack anything. Promotions are also available, although I tend to avoid them myself."

"My favourite thing is of course the huge variety of products. At every turn I found something new to see, which kept my mind pleasantly refreshed. I also liked the fact that you can transfer money in cryptocurrencies, as not all venues offer this option."
The opinion is very clear when it comes to the quality of LiveBet. It's a site that has been embraced by its players, and that's great. There were some minor shortcomings, but even these could only be isolated incidents.
The absolute king and attraction is the truly huge game library, which is bound to convince players. With LiveBet, there's no end of things to do, as there's such an unimaginable amount to do.
To sum up, we can safely say that this operator is particularly popular with the public. However, this trend must be maintained, as any slight dip in the market could have a negative impact on its reputation.
Is LiveBet Casino suitable for me? 
Do you ever feel like it's hard to stand still? Or do you find it boring to play the same game but can't find a better alternative? Well, LiveBet Casino and its large collection of games is guaranteed to provide a solution.
Let's just say that if you can't find something new and exhilarating to do out of almost 7,000 products, then it might be something other than the options. On this site, you'll certainly get to play your favourites. And, you'll also get to try lots and lots of new things.
We definitely recommend LiveBet to adventurous players. If you're open-minded enough and willing to step out of your comfort zone, this is your number one choice. You'll get to test out a wide range of different styles of games, not to mention try your hand at betting while spinning.
Is LiveBet Casino a scam?
At this point it's a rather silly question, but let's answer it anyway. LiveBet would have gone to a lot of trouble to be a scam if the whole quality thing was just a front for a shady operation. Surely they wouldn't have invested so much in every aspect and feature if the intention was just to trick visitors.
In fact, even the opposite is true, LiveBet has the attitude that it wants to offer its players the best possible treat. The game providers and payment methods are some of the biggest names in the industry, so reliability is guaranteed. In addition, the site offers its customers support tools to ensure that no external challenges can prevent a good gaming experience.
And of course, there is no mercy on the supervision side, which is carried out by a very powerful authority. They wouldn't give their licence to a bad site, let alone a cheat, so this entry can certainly be trusted. Constant monitoring will keep up standards of operation while ensuring that all the flour in the bag is perfectly clean.
Summary 
A very flashy and varied online gaming house where anyone can enjoy themselves! For example, this is how you could describe LiveBet Casino, the latest treat from CW Marketing. The whole thing has been carefully thought out and carefully executed, so there's certainly not a lot of bumps in the road.
Of course, the main focus and interest with this operator is on the various gaming options. First of all, the fact that there are betting, gaming machines and gaming tables on offer is a good thing in itself. The name LiveBet might lead you to believe that all the eggs are in the betting basket, but this is far from the case, with one of the largest game libraries on the market.
In practice, the product range alone takes this brand to a whole new level. Fortunately, however, it hasn't fooled the operator itself too much and all the other features have been created with care and attention. So you're in for a very nice and enjoyable trip if you happen to come here one day.
LiveBet Casino FAQs
Is LiveBet a reliable online casino?
Reliability is a big part of this operator's value proposition and that's why it is an officially audited and licensed site. In addition, the payment methods are extremely secure and your money remains protected.
How do I open an account at LiveBet Casino?
The traditional way to open a LiveBet account is through the service's homepage. You simply enter your contact details and you'll be quickly logged in.
Where can I read about LiveBet online casino experiences?
This page is the place to do so, as we have collected user feedback from this fresh gaming hub. We've also put together our own thoughts on the site for you to read.
Does LiveBet offer bonuses and free spins to new customers?
Yes it does, as players making their first deposit will be remembered with a welcome bonus of up to 140% up to €500. However, there are no spins on offer this time.
How fast are the deposits and withdrawals at LiveBet Casino?
Deposits are processed almost instantly to your account, so you can get the machines up and running as smoothly as possible. Withdrawals need to be separately confirmed by the operator and on top of that, different payment services have their own delays, so it can take up to 3 days.
Is LiveBet Casino a scam?
There's no question of a scam when we checked this newcomer out. A quality environment, packed to the brim with some of the toughest games on the market will ensure you're entertained. The operator is also licensed by the authorities, which means that operations are strictly controlled.